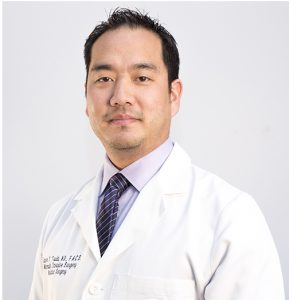 Education
Medical School: University of Hawaii John A. Burns School of Medicine
Undergraduate: University of Hawaii
Residency: University of Nevada, Reno School of Medicine (General Surgery)
Fellowship: Harvard Medical School (Minimally Invasive/Bariatric Surgery)
Biography
Dr. Shawn Tsuda is a board-certified general surgeon and has been specializing in weight loss surgery for over 10 years. He is fellowship trained in laparoscopic weight loss surgery from Harvard Medical School and specializes in minimally invasive surgical techniques including robotic assisted procedures and the laparoscopic gastric sleeve, laparoscopic gastric bypass, laparoscopic adjustable gastric band, foregut surgery, ventral and inguinal hernia repairs, endoscopy, and basic laparoscopy. He is certified in the Fundamentals of Laparoscopic Surgery (FLS) and serves as an FLS course instructor.
In 2008 he won first place in the Top Gun Laparoscopic Skills Shoot-Out at the Society of American Gastrointestinal and Endoscopic Surgeons meeting.
Dr. Tsuda is the first and only surgeon in Nevada certified in the LINX Reflux Management System for patients with severe gastroesophageal reflux disease.