What Can I Eat?
After surgery, the prominent question among patients is how their diet will change. As a general rule, the types and quantities of food for any of the surgeries is the same.  So, "What do you eat after bariatric surgery?"
The Diet Initially After Surgery
Immediately after undergoing any type of bariatric surgery, patients stick to a solely liquid diet, including broths, unsweetened juice, decaffeinated coffee or tea, sugar-free popsicles, and skim or 1% milk. During this early stage, it is important to only consume a few ounces of liquid at a time, or whatever your stomach is comfortable tolerating. While it sounds like only a small amount is consumed, surgery patients actually continue drinking all throughout the first few days after surgery to keep hydrated and facilitate healing. A liquid diet allows the stomach to heal from the surgery to ensure that a full recovery is made, and places the least amount of stress on the stomach as it does heal.
At the one week post-op mark, patients graduate to full/thick liquids.  We still ask that they don't take anything by mouth that they need to chew prior to swallowing.  "Meals" during this stage include mostly protein shakes, but can also include yogurts, sugar free pudding, and of course, any of the foods previously used during the first week.  Two weeks after surgery, patients are ready to get back to eating pureed or mashed up foods.  Foods during this stage include anything that is blended up such as creamed soups, chili (blended), mashed potatoes, refried beans, lentils, etc…  It is not until the fourth week that patients start to introduce solid foods into their diet.  These foods should be softer foods that are easier to chew and break up such as fish, eggs, soft fruits and vegetables, cottage cheese, and more. Eating protein- and nutrient-packed foods allows patients to regain strength and start getting back to a healthier version of themselves.
Sample Menu for This Stage: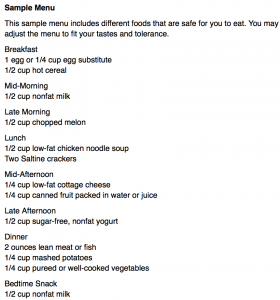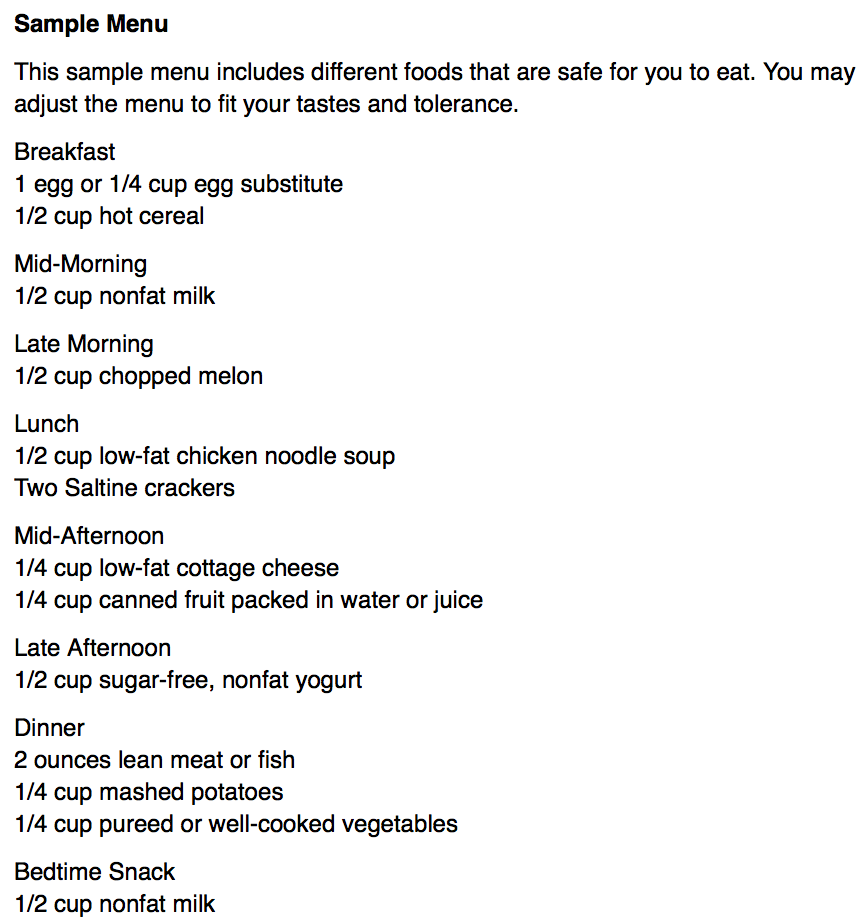 Eating After Healing From Surgery
After about six to eight weeks, patients return to eating a relatively regular diet. Keep in mind that, depending on the type of surgery, certain foods may be easier or harder to tolerate and digest; e.g. gastric band patients usually have a very difficult time with breads, pasta, and rice, and gastric bypass patients may experience dumping syndrome from processed sugars found in candy, cookies, and cakes, along with high fat meals.  Meal portions should be restricted to 4 oz. (by weight, not volume) per meal, with 2 oz. coming from a good protein source.  The remaining 2 oz. ideally should be a fruit or vegetable.  Although this may not seem like much food, satiety is achieved because of the much smaller stomach after surgery. Adhering to a no liquid calorie rule will also maximize a patient's success along with avoiding alcohol which also has a very high calorie content.  Finally, remember that after a relatively short time after surgery, patients should be maintaining a fairly regular diet, only with a healthier lifestyle.-Jamie Clarke